Training resource pack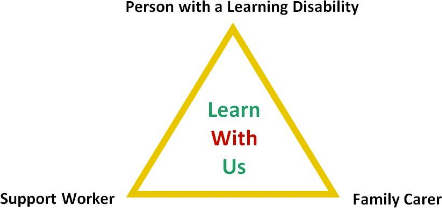 >
"LEARN WITH US" TRAINING RESOURCE AND PACK
"Learn With Us" is an educational film designed to be used in a training context. It isn't a "how to" or instructional film, but ideas of good practice and ways of understanding family carers are woven into the interviews and role plays and help generate discussion.
Family Carers and Centre 404 worked together to develop a training resource using the DVD. We use two facilitators, one of whom is a family carer with experience of a training role. This is not essential, but desirable if possible.We created a 3-hour session in which the film is watched in sections, followed by facilitated discussion. We have handouts picking up key points, and exercises for the group to undertake together.
The training pack contains everything needed to plan a session:
Training for Trainers workshops
Centre 404 and Family Carers offer social service organisations, providers and colleges a Training for Trainers workshop. This enables managers, tutors, student supervisors to learn first hand from our experienced facilitators how to run courses and workshops successfully. They can then run the workshops themselves.
Contact Us: Phone: 0207 607 8762
Email: learnwithus@centre404.org.uk