How can the film be used?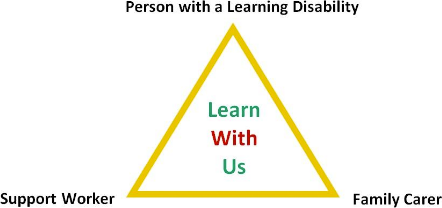 We have discovered that making an opportunity for interactive discussion and learning is of most value to the people viewing it. As an Information/Training Resource:
On its own, documentary style.

On its own, followed by discussion in a one or two hour slot.

Showing selected clips to illustrate points or generate discussion.

As a half day workshop using the Training Pack.
The Training Pack can be used in different ways for social care and health staff, and related professions:
Part of a staff induction programme

Embedded in an organisation's learning matrix

Part of a course for students of social work, occupational therapy, speech and language therapy, nursing, psychology and medicine

Staff team training – multidisciplinary or single professional

Awareness training for staff in related areas whose work brings them into contact with family carers of people with learning disabilities, e.g. Housing and Finance Departments.
For Family Carers:
In family carer groups to stimulate thought and discussion.

To show their friends and relatives as a way of increasing their understanding of the experience of looking after an adult child with a learning disability.
Contact us: Phone: 0207 607 8762
Email: learnwithus@centre404.org.uk